As the release of
Clearing The Path To Ascend
, the forthcoming new long player from Oregon doom icons, YOB, dawns, the band today reveals the chest-cavingly thick resonance of "Unmask The Spectre." Already teased in the album's record trailer, fans finally get a taste of the track three in full courtesy of host site, Stereogum.
Comments founding vocalist/guitarist Mike Scheidt,
"This part of the album gets dark, but it also has a sense of beauty and resolve. The mood and atmosphere nod equal parts to old and new YOB. It's one of my favorite things we've ever done."
Adds Stereogum,
"Scheidt's guitar bends like steel in a forge, and it bounces like hard rubber… YOB, the unit, function as a pure rhythm section: There are moments on Clearing The Path To Ascend when all three instruments [guitar, bass, drums] come down on the same beat that make me feel like I just got hit by a car. It's also hard to shift focus away from Scheidt, who is exerting a gravitational pull all his own. He makes one guitar sound like a fleet of F-14s; his voice ranges from Leonard Cohen lows to Ozzy Osbourne highs to Matt Pike roars, and he somehow manages to shift between those extremes with the ease of Tony Bennett practicing scales… YOB are the best doom band in the world today, andClearing The Path To Ascend is the best doom album you'll hear this year. It is, quite possibly, the best metal albumyou'll hear this year, maybe the best album of the year, period."
_________________________
Already listed among The Obelisk's
Records Not To Miss Before The New Year Hits
,
Clearing The Path To Ascend
is an aptly titled album for what will undoubtedly be the crowning achievement for a band whose journey now nears two decades of creating music as commanding as it is cathartic. As is the
YOB
way, the tracks here don't simply offer a vacuous glimpse into the already riff-soaked doom genre. These songs demand the tandem attention of mind, body, and soul – etching a mark across a sound that finds
YOB
as formidable and unequaled as they've ever been. True ascension requires a destruction of those barriers that prevent any movement forward. Unsurprisingly,
YOB
pummels any and all of these obstacles with absolute authority, clearing the way for a genuinely visceral listening experience and climbing upward into a realm that sets the band in a heavy metal place that has been and will always remain wholly their own.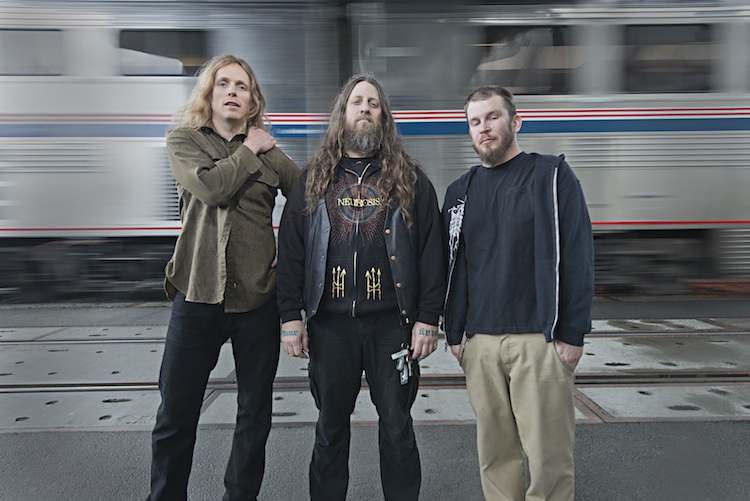 Photo credit: ©James Rexroad
Recorded at Gung Ho Studio in Eugene, notorious for its reserve of vintage equipment, alongside longtime collaborator/iconic sound-sage Billy Barnett, and mastered by Brad Boatright (Sleep, Beastmilk, Nails) at Audiosiege Engineering, YOB will release Clearing The Path To Ascend on CD and digitally via Neurot Recordings on September 1st (UK/Europe) / September 2nd (US), and on vinyl via Relapse Records on September 15th.
YOB
will bring their otherworldly riff dominations to the stage beginning with a headlining performance at Portland's Hoverfest alongside Witch Mountain, Eight Bells and more! The shows come in advance of the band's previously announced overseas trek this Fall slated to commence on September 3rd, 2014 in Utrecht, the Netherlands.
YOB
will be joined by Little Rock's Pallbearer. For full
YOB
tour dates, including upcoming stateside dates, see below or visit
tour.neurotrecordings.com
.
9/06/2014 Audio- Glasgow, UK
9/11/2014 Vera - Groningen, NL
9/13/2014 Truckstop Alaska – Gothenburg, SE
9/17/2014 Slakthuset – Stockholm, SE
9/19/2014 Connewitz – Leipzig, DE
9/21/2014 Bi Nuu – Berlin, DE
9/23/2014 Klub 007 – Prague, CZ
9/25/2014 PMK – Innsbruck, AT
09/27/2014 Lo-fi Club - Milan, IT
9/29/2014 Le Romandie – Lausanne, CH
9/30/2014 Jubez - Karlsruhe, DE
10/01/2014 Black Ship - Montpellier, FR
10/02/2014 Razzmatazz3 – Barcelona, ES
10/04/2014 Amplifest – Porto, PT
10/05/2014 ES ESonora – Erandio, ES
10/06/2014 Le Dynamo- Toulouse, FR
10/07/2014 Le Ferrailleur - Nantes, FR
10/08/2014 Glazart - Paris, FR
10/10/2014 Kyttaro Club – Athens, GR
_________