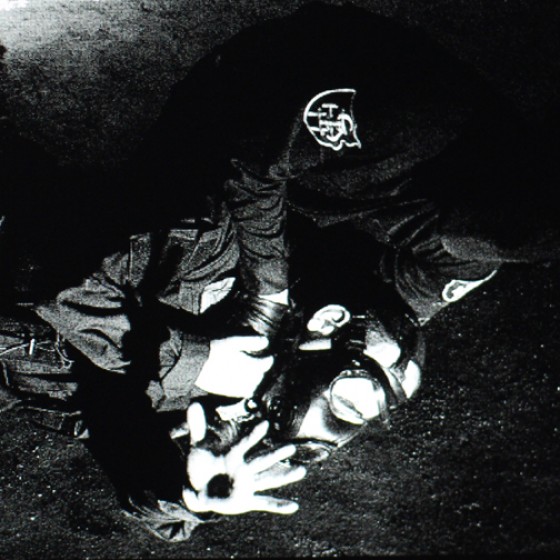 This evening,
CORRECTIONS HOUSE
will take Seattle beginning a brief but epic run of live takeovers to ring in the New Year. Set to commence at The Highline, the band — Mike IX Williams (Eyehategod), Scott Kelly (Neurosis), Bruce Lamont (Yakuza), Sanford Parker (Minsk) and their minister of propaganda, Seward Fairbury — will march on through the weekend leveling Portland, Los Angeles, San Diego, and San Francisco leaving nothing but burning embers and the stench of chaos in their wake. The latest excursion follows the band's year-end tramp through Europe. Additionally, the band will return to The Netherlands this Spring to preach their end-time message atop the main stage of the 013 venue in Tilburg April 10th at Roadburn. On Friday, April 11th at Het Patronaat, Kelly, Williams, Parker and Lamont will each perform solo material, aided and abetted by a selection of others as they see fit.
CORRECTIONS HOUSE
is currently touring in support of their
Last City Zero
debut, issued via Neurot Recordings in late October. Produced by Parker at Electrical Audio, Soma Studios, 60 Psycho Hum and Nodferatu's Lair,
Last City Zero
is the audio end product of government conspiracies, societal ruin and psychological decay. Traveling far beyond the traditional confines of any one specific genre,
Last City Zero
is at once beautifully hideous, graceful and terrifying and continues to raise the brows of exploratory fans and critics around the globe. Among other year-end triumphs, the record nabbed the number thirty-eight spot On Decibel's coveted Top 40 Albums of 2013 list, the number nine slot on Exclaim's Top Ten Metal & Hardcore Albums and the fourth position on Cvlt Nation's Top Six Avant-Garde Releases.
CORRECTIONS HOUSE Live Takeover 2014:
1/02/2014 The Highline – Seattle, WA w/ Wrekmeister Harmonies
1/03/2014 Tonic Lounge – Portland, OR w/ Wrekmeister Harmonies
1/05/2014 Echoplex – Los Angeles, CA w/ Wrekmeister Harmonies, Author & Punisher
1/06/2014 Soda Bar – San Diego, CA w/ Wrekmeister Harmonies, Author & Punisher
1/07/2014 Great American Music Hall – San Francisco, CA w/ Wrekmeister Harmonies, Sutekh, Hexen
4/10/2014 013 Venue – Tilburg, NL
4/11/2014 Het Patronaat – Tilburg, NL
CORRECTIONS HOUSE
premiered a video for the track "Bullets And Graves," upon unsuspecting masses via MTV Hive. As captivating as it is disconcerting, the wholly black and white production is a flagrantly violent, roadside nightmare dominated by shady characters, vicious beatdowns and nameless destinations. If you missed it, check it out below.
"CORRECTIONS HOUSE have created something wholly original, incredibly touching, and most likely alienating. Bravo gentlemen, bravo. 10/10" — Crave
"Featuring dark, depressing atmospheres and exceptionally negative, apocalyptic vibes, Last City Zero is brooding, raw and corrosive, as well as breathtakingly beautiful. 9/10" — Exclaim!
"On Last City Zero, CORRECTIONS HOUSE survey the world with a bleak outlook, as much with scorn as sadness. The industrial/mechanical side feels indicative of how the soul is being ripped from the chest of society, whereas the cleaner side represents the need to hold on to our own individuality. The angry screams voice the fight to maintain what is ours and to retake what has been taken, and the spoken voices of reason and honesty instill reflectiveness and a lack of ignorance…4/5" – About.com
"Like their main bands, there is no relegating this music to the background. It is so insidious, stark and sure of itself that it righteously demands your full attention. CORRECTIONS HOUSE has much more depth than labels such as 'Doom' or 'Experimental' could ever justify… Not only are these men masters of their own individual sounds, they have managed to create something together that is bigger than themselves. And that is a 'supergroup' that gets it right. 10/10" – Ghost Cult
"The four members of CORRECTIONS HOUSE do exactly what you would expect from them. Each musician brings along his own identity and experience, they throw it together in the mix and come up with something extraordinary. 9/10" – Scene Point Blank
"The coming together of CORRECTIONS HOUSE seems like one of those moments where the protagonists caught lightning in a bottle, a project designed to explore the diseased, dark underbelly of the American Dream, like the soundtrack to a David Lynch film… It's not perfect — at times it is ugly and raw — but it is something special and a captivating project delivered with complete conviction by its cast of players." — The Sleeping Shaman